The Victorian Government's Let's Stay Connected Fund is helping communities stay connected during the coronavirus (COVID-19) pandemic and beyond.
Community organisations were invited to apply for grants of between $5,000 and $200,000 to support innovative, community-led initiatives that build connection, reduce feelings of loneliness and isolation.
Successful projects will be implemented quickly and help a wide range of community groups continue to support their communities
Details of the successful applications are provided below.
For all Victorian Government grants go to www.vic.gov.au/grants.
Highlights and Events
Connecting Junior Gardeners - Incursion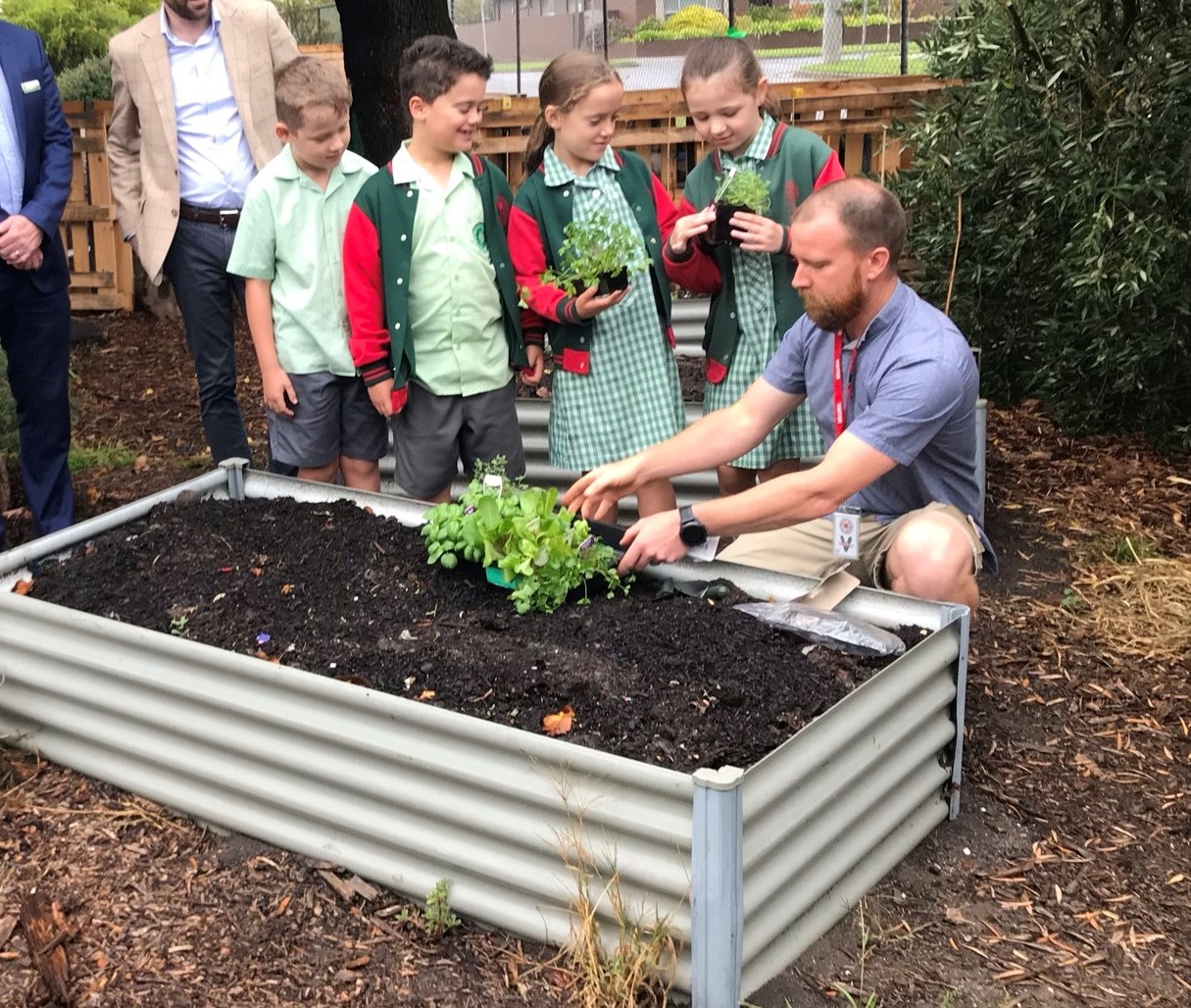 Primary School students at St Peter's, East Bentleigh were the successful entrants for the opportunity to have James McLennan, Founder of Grassroots, visit the school to provide a demonstration of the gardening training program. With funding from LSCF the program has been designed for primary school children via video and fact sheets and was created by James in Partnership with the Nursery and Garden Industry Victoria.
Successful projects
Successful projects will help a wide range of community groups continue to service their communities by adapting the way they deliver programs or events through online forums, activities and services.
Details of the successful metropolitan Melbourne applications are provided below.
| Organisation | Project | Area | Description |
| --- | --- | --- | --- |
| Gather My Crew | Find My Crew | Metro- Melbourne | An online platform to connect volunteers with members of the community who need practical help and support and build local support crews that can be mobilised to provide community assistance. |
| North and West Melbourne Neighbourhood Centre | The Centre 'My Local Life' International Student/Community Online Program | Metro- Melbourne | Online programming to connect International students with volunteers, migrants, young people and community groups. Project invites sharing through workshops, interviews and discussions, concurrently building extensive volunteer opportunities. |
| National Heart Foundation of Australia | Heart Foundation: Keeping Young Hearts Connected project | Metro- Melbourne | Develop a series of podcasts and virtual meetups for young people living with heart disease. Evidence-based content will be aimed at improving emotional well-being with online meetups providing a safe environment for participants to share and connect. |
| Weenthunga Health Network Inc. | Nyarrn-gakgo Mangkie [hear within] – Networked Community | Metro- Melbourne | Nyarrn-gakgo mangkie (NGM) provides opportunities, connections and support to First Nations young women in school, university and work who are journeying towards health careers by providing long-term, holistic, relationship-based connections. The project creates an online NGM community and resource-space that is accessible, engaging and informative for participants, families and networks. |
| Central Ringwood Community Centre | Central Ringwood Community Centre - Keeping Maroondah Connected | Metro – Eastern | Develop three interconnected programs, including support resources modified for culturally and linguistically diverse (CALD) and First People, a digital device loan scheme for isolated and vulnerable community members and a wellness program adapted to suit the needs and preferences of the community. All programs are designed to improve access to programs and services, while supporting mental health. |
| Bestchance Child Family Care | Post coronavirus (COVID-19) Work Readiness Program | Metro – Eastern | Enhance the digital and employability skills of jobseekers as coronavirus (COVID-19) restrictions ease, specifically assisting migrant women in the community. Delivering two five-day short courses, the program aims to build knowledge, improve skills, enable social connections and maximise relationships to lessen feelings of isolation. |
| Bakhtar Cultural Association | Stay Connected Project | Metro - Southern | Deliver creative, online workshops (writing, poetry, live music) in languages spoken within the Bakhtar community. The project will encourage sharing and will provide support to participants who are not fluent in English. |
| Big hART | 'Connecting Lines' Community Connection and Resilience Project, Frankston North | Metro - Southern | Increase community connection and resilience for vulnerable youth and senior community members in Frankston North. The scope of this bridging and bonding initiative includes project design, online arts workshops and events to build and support meaningful online social exchange, digital skills and confidence. |
| Papua New Guinea Women's Association of Victoria Inc | PNGWAV Sisters connection | Metro - Western | The project invites participation in exercise and crafts from Papua New Guinea women. This soft-entry approach to discussing mental health, is a way of equipping the community with resources to be mindful and aware of locating any early signs of depression. |
| Maribyrnong City Council | Master Cooks Maribyrnong | Metro - Western | Master Cooks Maribyrnong is a seven-week, live stream cooking demonstration each Saturday night, hosted by seven diverse restaurants in the western suburbs. Chefs will share with their culinary creation, as well as their story of how they came to settle in the West. |
| United Housing Co-operative | Let's Stay Connected Co-op Social Club | Metro - Western | Develop an online social club program. The scope includes the design of content and engagement approaches to build capability for isolated members to utilise technology, to access online resources and to socially connect with other members of their community. |
| Multicultural Resources Hub | Bollywood Dance Fitness Class for all ages | Metro - Northern | Establish a community-based program aimed at encouraging participants to keep active through cultural dance. The program will be free and provide an avenue for social interaction and connectedness based on common interest. |
| Olympic Adult Education Inc | Data is the Key that Unlocks Community Connections to Prevent Isolation | Metro - Northern | Upgrade portable Wi-Fi data capabilities to enable the West Heidelberg community to participate in online programs including English language classes, family violence recovery programs, family story club and the 3181 song writing project. |
| Nursery & Garden Industry Victoria | Connecting Junior gardeners | Metro – Inner South-east | Inspire children to discover the health and wellbeing benefits of gardening, including physical exercise, connecting with nature and being mindful. The program will deliver an educational gardening program, creating videos, digital fact sheets and activities to support primary aged children to engage in gardening at home. |
| Inclusion Melbourne | Connect Me! Technology for Seniors and People with Intellectual Disability | Metro – Inner South-east | The project is designed to support the continuity of services and important connections for vulnerable seniors and people with intellectual disability, specifically those isolated due to living in supported accommodation, who do not have access to technology. |
| Melbourne Gay and Lesbian Chorus | MGLC virtual performance(s) | Metro – Inner South-east | The project will produce three virtual performances, supporting production and online hosting. |
Details of the successful applications across regional Victoria.
Background and application guidelines