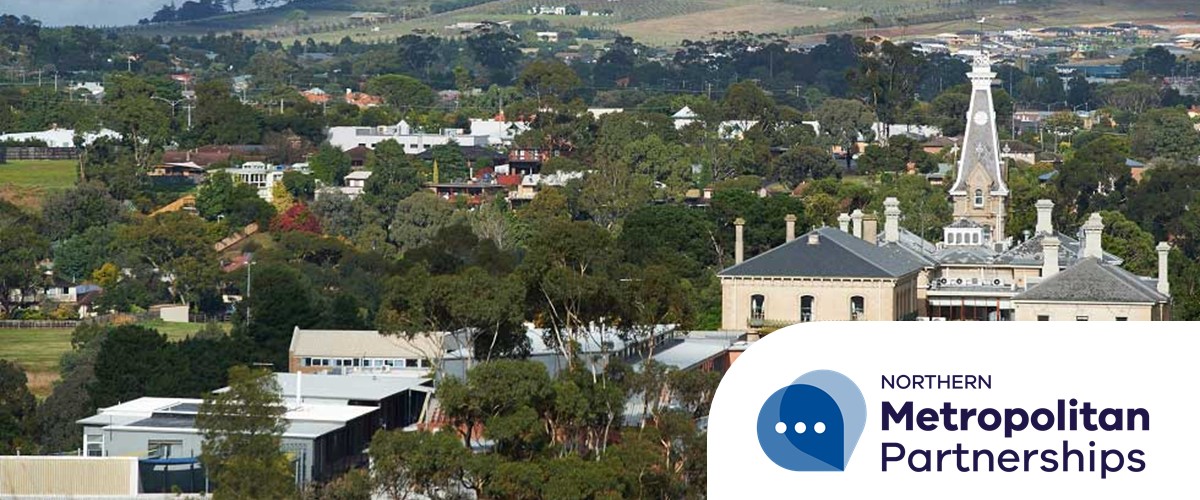 The Northern Metropolitan Partnership is an advisory group established by the Victorian Government. The Partnership is a way for local communities to engage directly with state and local governments and advise the Victorian Government of the top priorities across the region. This advice ensures a community voice in government decision making.
The Northern Metropolitan Partnership's vision is for a region where all people have access to jobs, services and infrastructure that allows them to be healthy and well.
The Partnership has six priorities, informed by our engagement work with the communities, businesses, service providers and local governments of Northern Metropolitan Melbourne:
Transport connectivity: Improving transport connectivity across the region to ensure people have better access to services and employment opportunities.
Jobs and economy: Attracting investment and creating more local jobs to improve regional prosperity and liveability for all.
Health and wellbeing: Ensuring all residents have access to affordable primary health and community services that cater to their needs with a focus on prevention.
Environment Sustainability: Protecting and enhancing the region's natural assets and reducing the impact of climate change.
Connected young people: Prioritising the voice of young people so that they feel supported to pursue their aspirations.
Lifelong learning: Supporting a seamless approach to lifelong learning to develop a more skilled, work-ready, employed, resilient and connected community.
Meet our members
The Northern Partnership is in its second term, with the current membership appointed in August 2021. Each partnership is made up of community and business representatives with varied backgrounds, experiences and networks, the CEO of each local government in the region and a Deputy Secretary from the Victorian State Government.
What we've heard
We undertake a range of engagements to understand the issues and opportunities faced by the communities of Melbourne's north.
What we've done
Since our establishment in 2017 we've invested in research and projects to further explore, and act upon, the priorities raised by the people of our region.
We commission this work with the Metropolitan Partnerships Development Fund and then share the findings and outcomes with government to inform policies and programs.
The Northern Region
Melbourne's Northern Metropolitan Region stretches from the inner city suburbs of Brunswick, Northcote, Alphington and Ivanhoe, to the outer areas of Craigieburn and Sunbury, and to the Kinglake National Park and rural and interface communities of Whittlesea and St Andrews. It is a diverse and vibrant region, featuring Melbourne's major airport, arts and cultural precincts the National Employment and Innovation Cluster in LaTrobe and new growth area communities on the northern fringe of the city.
Melbourne's Northern Metropolitan Region is the traditional home of the Wurundjeri people of the Kulin Nation.
Local Government Areas
Banyule City Council
Darebin City Council
Hume City Council
Mitchell Shire Council
Merri-bek City Council
Nillumbik Shire Council
Whittlesea City Council
Contact us
Email: metropolitanpartnerships@ecodev.vic.gov.au
Page last updated: 01/03/23