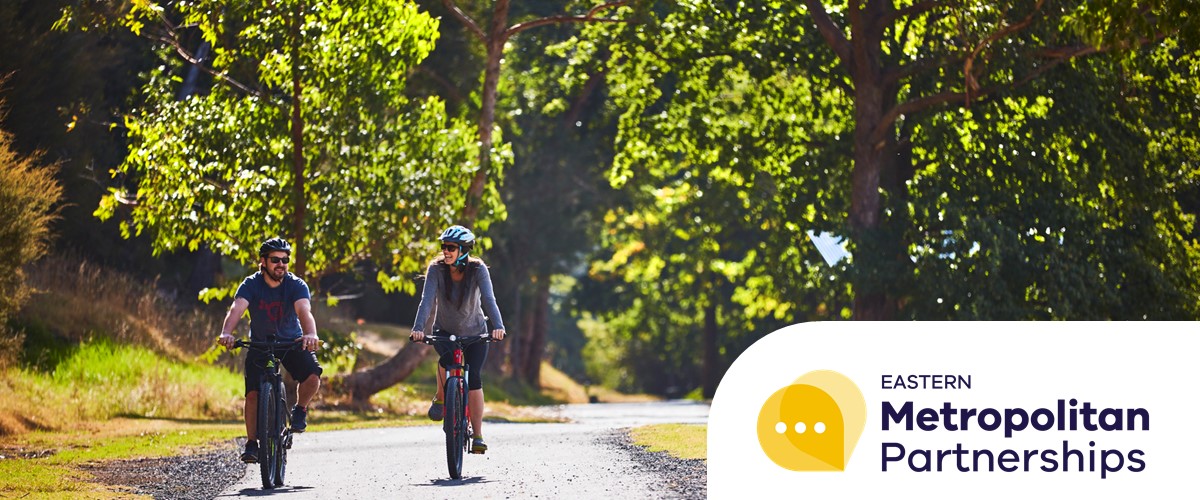 The Eastern Metropolitan Partnership is an advisory group established by the Victorian Government. The Partnership is a way for local communities to engage directly with state and local governments, and advise the Victorian Government of the top priorities for jobs, services and infrastructure across the region. This advice will become part of the government's key decision-making processes.
The Eastern Partnership's vision is for a region with excellent connections between people, places and jobs.
The Partnership has six priority outcomes, informed by our engagement work with the communities, businesses, service providers and local governments of Eastern Metropolitan Melbourne:
Regional Resilience and Economic Recovery: Support the social and economic recovery of the region in response to the impacts of the pandemic
Regional Connectivity: Make it easier to get around the region especially by public and active transport
Integrated Health & Social Services: Ensure easy, affordable, seamless access to the full range of services needed by the region's most vulnerable people
Jobs for Youth: Improve the transition from secondary school to meaningful training and employment for the region's young people
Social Housing: Ensure all people in the region have a safe and affordable place to live
Social Inclusion: Address social isolation and loneliness across the region and provide opportunities for all members of the regional population to participate in community life
Meet our members
The Eastern Partnership is in its second term, with the current membership appointed in August 2021. Each partnership is made of community and business representatives with varied backgrounds, experiences and networks, the CEO of each of local government in the region and a Deputy Secretary from the Victorian State Government.
What we've heard
We undertake a range of engagements to understand the issues and opportunities faced by the communities of eastern Melbourne.
What we've done
Since our establishment in 2017 we've invested in research and projects to further explore, and act upon, the priorities raised by the people of our region.
We commission this work with the Metropolitan Partnerships Development Fund and then share the findings and outcomes with government to inform policies and programs.
The Eastern Region
Melbourne's Eastern Metropolitan Region spans middle ring suburban neighbourhoods of Oakleigh, Box Hill and Doncaster to the mountain-ash forests of the Dandenong Ranges and the vineyards of the Yarra Valley in the far north east. The Region is also home to many well established suburbs such as Ringwood, Knox and Boronia, characterised by the transition between the built and natural environments.
Melbourne's Eastern Metropolitan Region is the traditional home of the Wurundjeri people of the Kulin Nation.
Local Government Areas
Manningham City Council
Maroondah City Council
Knox City Council
Monash City Council
Yarra Ranges Shire Council
Whitehorse City Council
Contact us
Page last updated: 21/11/22